A Note from Bob
The initial idea for the Bo-Jo Fishlight was conceived sometime around 1970. My dad, Jack Hunnicutt, built our 18-acre lake on the family property and he had a great idea on how to make sure we caught more fish out of it. He had heard of a light that attracted bugs and knocked them into the water with a spinning wire or cord. Being an electrician all his life, he set out to make his own. He completed the first light for himself shortly after. The light worked so well that he started getting requests to make them for friends. One of those friends was a guy by the name of Joe Pearson.
Well, fast forward to sometime in 2003. Joe and I were fishing in our family pond late one afternoon and we happened to be right next to one when one of dad's bug lights came on. It caught my eye and attention like it never had before. I told Joe, "we should dress that light up a little and market it"!
He agreed.
After about 40 prototypes, we settled on the design that is still in use today. Unable to think of a better name at the time, we took the first two letters of each of our names— Bo from Bob and Jo from Joe; and the Bo-Jo Fishlight was born!
Joe retired in 2011, but I continue to call it "Bo-Jo". My goal is to see that every fisherman on the planet has an opportunity to see one work— because it works so well.
I HOPE YOU LOVE IT. I KNOW THE FISH DO!
-Bob Hunnicutt
Our Product: The BoJo Fishlight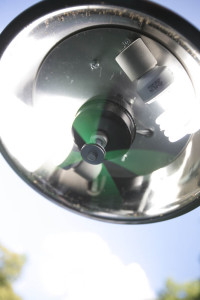 BoJo Fishlights are serve as an economical, ecologically responsible way to control nighttime insects, feed fish and increase your chances of catching "the big one" all at the same time!
BoJo lights work well when placed in both saltwater and freshwater environments. They function nicely on large lakes and exceptionally well on ponds, where managing the feeding and harvesting of fish can have a dramatic effect on the sizes, species and quantity of the fish in your pond.
Our lights are an ideal, inexpensive way to feed your fish a readily available, protein-rich meal. Fish prefer fresh, wriggly bugs to almost any commercial fish food. Bo-Jo Fishlights knock bugs into the water when they're still alive. Fish will love the endless supply of insects, you'll have less pests biting you, and you'll catch more fish in your pond, lake or stream.
Bo-Jo Construction
Bo-Jo Fishlights are built to last. Made right here in the USA, Bo-Jo lights are manufactured from stainless steel, aluminum and galvanized metal. A standard configuration includes one light with a pair of white bulbs. Light from the bulbs attract bugs to the device, where they get "slugged" by spinning wire.
Bo-Jo Fishlights are shipped with a standard 115 volt three-prong male plug. You can wire your BoJo unit(s) directly to an existing GFCI-protected power outlet, or use an accessory Ground Fault Circuit Interrupter (GFCI) outlet portable accessory.
We strongly recommend that you connect your new light(s) (and any other electrical devices used near water) to an actively protected GFCI circuit.
For more information on the Bo-Jo Fishlight, please explore our site. Feel free to contact us with any questions!